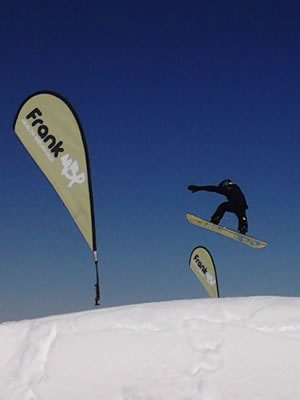 We've been going to the Australian snow fields for over 20 years. In Australia the Snow fields are restricted to the East Coast of the mainland Australia and also a couple of resorts down in Tasmania. Australia's highest mountain is just over 2200 metres and some Snow resorts are a lot lower than that. Hence, the Snow in Australia is very seasonal and is pretty much restricted to the Winter months and some Spring snow fun. So for those that get a kick along in feeling alive in the Snow, the calendar months of June, July, August, September and maybe October are the Snow Season in Australia!
No matter if you are a Snow day tripper, skier, snowboarder or back country cross country skier, one thing we've always found is, people enjoy getting help with is some of the costs. Compared to some other snow resorts and fields around the world, Australia's snow trips can be expensive. Over the years, and with an expanding family of kids, we've found that some snow gear, lift tickets, accommodation and restaurants can be pricey. Kids grow out of clothes quickly and equipment becomes too small.
Snow Sales Latest News

The latest news on Snow Sales around Australia. Keep up with all the discounts, clearances, value adds and bargains. Whether the sales are in retail in store, on the mountain resorts or pop up sales for organisations like school snow sports swap meets or online, we will try and get these updates here. We are always looking for good value and we'll update on resort accommodation and restaurants when we can. And finally we'll update on what's happening on the Snow Sales site aswell as we add things. You gotta love getting out and about in the snow.
May 04, 2023 - Snow Gear and Snow Season Sales and New Season Snow Gear Pop Up Sales updated for 2023. See Snow Season Sales.
April 26, 2022 - The exciting and awesome second hand snow gear and last seasons specials and New Season Snow Gear Pop Up Sales are hitting the Headlines. For some 2022 bargains make sure you see Snow Season Sales.
April 25, 2022 - Lots of retail stores raring to go for Winter 2022. The fabulous Snow Stores will be pleased for your enquiries. See Snow Store Sales.
Aug 27, 2020 - Rest in Peace Big Dave - The Heart of Buller and a Massive Smile everytime you entered Black Mountain! We miss you Dave!
July 8, 2020 - Rest in Peace Chumpy - Ride On - Our thoughts are with all that knew you and loved you - Ride On!
Australian Snow Sales
Across Australia we've tried to compile some of the Snow Sales that we've found helpful and they might help you and your family. We find them at the ski and snowboard retail outlets, at the snow resorts and also the pop up sales that occur annually. We hope it helps you and tour family.
Australian Snow Fields and Resorts

The main Australian snow field and resorts are situated in Victoria and New South Wales/ACT along the lower areas of the Great Dividing Range. But even Tasmania gets some snow and Ben Lomond can be fun on the Apple isle. We write a little on our impressions of all the Australian snow resorts and offer some of the on mountain retailers that we have found helpful for sales and hire of snow gear.

Pop Up Snow Season Sales and Groups

When heading to the Snow in the Australian Winter it's important to get the right ski gear. Sometimes, second hand and ex hire snow gear will be okay or even last years fashions. Over the years we've found some Snow Sales that help stretch our budget. These ideas can be annual swap meets, popup sales and online swap and sale groups.

Snow Store Sales, Hire and Service

In store expertise for snow gear in winter can be of great help. We've compiled details on some Australian snow retail stores. And remember, whether it be hiring snow gear or buying new snow gear, getting the right in store advice can save you a lot in the long run.
If you are planning on heading to the Snow fields you should fit out and wear the right Snow Gear. Whether it's ski clothes like snow jackets, snow pants, or boots and gloves we can all do with some savings. Then you also might like to have go at skiing or snowboarding or tobogganing etc etc.
Getting some gear new, ex hire, ex demo, second hand might be an option for you. That way when you get up to the snow resort you can indulge yourself a little ... After all it is a holiday!