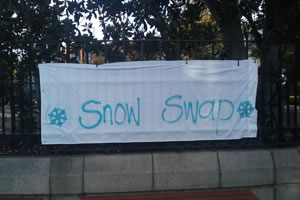 Pop up snow sales by schools and private groups happen regularly leading up to the snow season. Over the years we've found some of these to be terrific to pick up some snow clothes or to purchase some equipment. The clothes and equipment can come in retail brand new, ex demo, last years stock, used, ex rental or second hand.
In terms of Snow Gear or Equipment each sale will vary but we've found these to have ski's, snowboards, bindings, poles, toboggans, helmets and various other. And regarding Snow Clothes we've found the general snow gear of snow pants, boots, socks, gloves, snow jackets, thermals and various others. But please make sure you checkout the latest details or flyers on each sale as they may have full details of snow stock available.
Pop Up Seasonal Snow Sales and Swaps
These are the swap meets and sales we've found over the journey that help with getting bits of gear and fitting out kids as they grow etc. With some of these sales it's also an opportunity to move on some of our gear that doesn't fit anymore. We hope it helps you.
Location
Venue
Sale Event
Sale Dates
Comments
Canberra

Exhibition Park

Canberra Snow Sale and Expo
Early May
Local Canberra Ski and Snow retailers and general public offer Snowsports and Winter items (new and second hand or ex hire) for sale. Includes snow equipment like skis and snowboards, bindings, boots, toboggans, and various other. Second hand or ex hire is sold as is. Keep an eye on the

Snow Australia Snow Sale

for details of final dates and times.
Elsternwick

Beavis Street Scout Hall

Bumps Kids Ski and Snow Recycle Sale
Early May
Been going over 30 years. Bumps second hand clothing and snow equipment sale. A lot of kids stuff here. Includes some high end equipment of skis, boards, boots, bindings, helmets, back braces etc etc. Items sold as is. And Sellers, if you have equipment you want to sell get registered. Check the Bumps website in April.
Australia Wide

ALDI

Snow Special Sale
Mid May
Huge sale of Special snow gear. Mainly consists of winter clothing for the snow. The clothing sale includes items like, gloves, warm hats, undergarments, socks, winter snow jackets and winter waterproof pants. This sale can also include various items for snow sports. Keep an eye on the Aldi Special Buys and get ready to line up.
Australia Wide

Anaconda

Get Ready for Winter Sale
Mid May
Discounted off retail sale includes mainly clothing snow apparel for men, women and children. Discount varies each year. Keep a check on the Anaconda sites for full details of this sale.
Toorak

St Catherines

Snowsports Swap Meet Sunday 16th May 2021
Late May
School event to turn over kids snow gear. Mainly kids clothing but can also include ski and snowboard equipment. Keep an eye on the

St Catherines School news

for details of this annual event.
Mansfield

Mansfield Masonic Lodge Hall

Swiss Ex Rental Snowsports Sale
June Queens Birthday Long Weekend
Good quality, ex rental gear for sale. Includes ski and snowboard gear. Boards and skis, boots, poles, helmets. Held on the opening weekend of the Victorian Snow fields at Mansfield.
Mansfield

Pullins Car Park

Snow Opening Weekend Sale
June Queens Birthday Long Weekend
Ex Rental snow equipment and discounted gear. This sale has been going for many many years in the car park of Pullins of Mansfield. Includes, brand new, ex demo, ex rental at great discounts. Skis, Boards, Boots, Bindings, Outerwear, Gloves, Jackets, Goggles, more. Give them a call.
Jindabyne

Memorial Hall

Jindabyne Snow Sale and Expo
Early June
Local Jindi Ski and Snow Sports Community offer Snowsports items (new and second hand or ex hire) for sale. Includes snow equipment like skis and snowboards, bindings, boots, toboggans, and various other. Pre loved or ex hire is sold as is. Keep an eye on the

Snow Australia Snow Sale

for details of final dates and times.
Ashburton

Ashburton Scout Hall, High Street

Ex Rental Swiss Snowsports Sale
June / July School Holidays
Great opportunity to fit out the family at reasonable prices on ski and snowboard gear during the School Holidays. Ex rental gear of good quality. Make sure you check opening times.
Australia Wide

Kathmandu

Winter Sale
All July
Great sale we have found over the years with some up to 50% off clothing and snow clothes. Examples we have purchased over the years are their quality soft shell jackets. Especially kids ones as they grow out of them. Also it's a good opporunity to stock up on quality socks and undergarments. We are lucky to have a store close by and prefer looking and browsing rather than buying online.
The snow sales events below are in the future.
Online Seasonal Snow Sales and Swaps
There are quite a few platforms online that you can buy used, secondhand and new gear. It's not a complete list, but we've found these one's helpful for our family. Most of these groups and swap forums, fire up with lots of items around May and June each year. In the FB groups yo udo get some cross over and duplicate listings so you just need to be patient. The other good thing about these forums is that you can list items your wanting.
Buller FB Swap. This closed FB group is a forum for items with the Mt Buller community.

Mt Buller Community Buy Sell and Swap

. Great for kids and adults alike mainly locally to Buller and Melbourne areas.
Hotham FB Swap. Another closed FB group for snow related items in the Hotham and Dinner Plain area.

Hotham and Dinner Plain Buy Sell and Swap

. Great for families Hotham and Melbourne areas.
Oz Snowgear FB Buy, Swap, Sell. Open FB group for snow items around Oz.

Australian Snowgear Buy Sell and Swap

. Some Sydney and NSW and Melbourne and Victorian listings
FB Marketplace.
Gumtree Snow gear section.
Ebay Snow Gear section.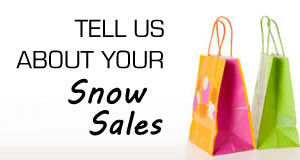 More Great Mid Year Sale ideas this Winter
Are you ready for a bargain this end of financial year. It's nearly time for the retail Mid Year Sales. And you need to get your groove on to checkout all the specials.
Looking for a Winters Sale
Another Big Day of sales comes with the Winter Sales. Make sure you're onto a sales winner and checkout all the Winter discounts.